Early Bird Drop Off/After hours pick up
Early Bird Drop Off/After hours pick up
Benefits of Early Bird/Night Drop Off & After Hours Pickup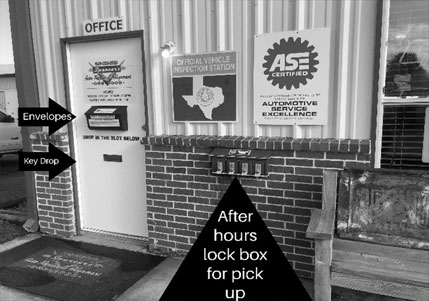 Accommodations Made For Customers
At Spencer's Auto Repair, we're committed to making it as easy as possible for our valued customers to get their vehicle serviced or repaired. The Early Bird/Night Drop Off & After Hours Pickup service we offer which is designed to accommodate customers whose schedules won't allow them to bring in their vehicle during our Monday through Friday 8 a.m. to 5 p.m. business hours. Customers can save valuable time because when they need to drop off their car for service, they can do so at any hour of the day or night.
Simple Process
When dropping your vehicle off using our Early Bird/Night Drop Off service, simply go to our website and fill out the drop off form or we have envelopes located on our front door. Park your car in one of the designated parking spots, then place your car key and envelope in our safe and secure mail slot located on the front door. Don't forget to leave us any necessary items such as your insurance card, wheel lock & please make sure your vehicle has plenty of gas.

We also offer an easy way for you to pick up after hours. Once your vehicle is complete, we will text you a quick note letting you know it's ready and attached will be a link for our text to pay option. You simply click on the link and it will take you to your invoice. In the top right hand corner there will be a button that says "pay now". It is as simple as just entering your credit card information and submitting. Once paid just send us a quick message letting us know it's paid and you'd like to do an after hours pick up. Our friendly advisors will verify payment information and then text you with your lock box number and information on how to access your keys.

Now there is never any need to wait until the weekend or delay repairs for another day when you can take advantage of our Early Bird/Night Drop Off & After Hours Pickup. It's just another way that Spencer's Auto Repair lets you know we value your business, realize that your schedule is busy and your time is valuable, and that we want to make it as convenient as possible for you to drop off your vehicle for servicing!
Testimonials
James Hayes

, 07/14/2020
They were very professional and informative. They did extensive work on my truck and now it performs great on long trips. The work was done in a timely manner. Thanks for a job well done.
view all reviews