AFTER HOURS DROP-OFF AND PICK UP
Need to drop your car off at Spencer's Auto Repair when we're not open or pick up after hours? Customers can leave their vehicle on our lot outside of our regular business hours, request auto repair when we next arrive at the shop, and slot the work into our schedule. We provide a form you can complete for our staff and leave your vehicle and keys. Can't pickup until after hours, no problem. With our convenient text to pay program we text you the invoice to pay from your phone and once we receive payment we text you a secured lock box number and code to access your keys after hours.
How to:
Please completely fill out the Drop Off envelope located in the front drop box compartment. (Failing to complete the form may delay work on your car as we try to contact you for specifics on this form!) Place your keys and completed envelope though the night drop slot located on front of the office doors (see photo). We will contact you at our earliest convenience.
Important: Please make sure you lock your vehicle and then leave the keys!
Night Drop Box is located on the Front Door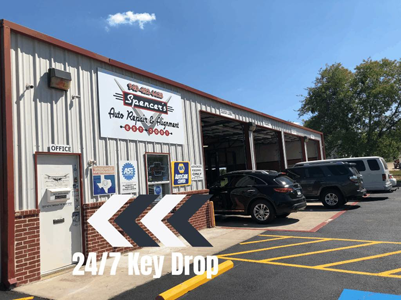 After Hours Secure Lock Box For Pickup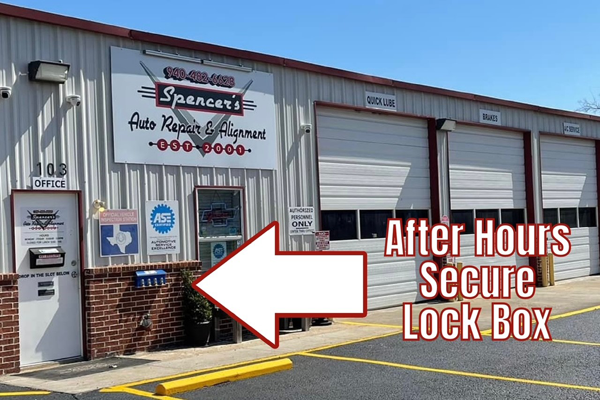 coupons

view coupon
Testimonials
Anna Sisto
Absolutely love Spencer's Auto Repair shop and will not take my cars anywhere else. They go above and beyond to take care of their customers. The work is always quality, they do not push you to do repairs that aren't necessary, and keep you well informed throughout the process! They have even been kind enough to give us a loaner car on longer repairs and provide rides to and from the shop for shorter repairs. The customer service cannot be beat and we are glad we found them.
view all reviews